GSAPP MSAUD PROJECT

Revitalizing the Dead Sea

Agro-Eco Tourism in the Jordan Valley

UD Spring 2017 I Columbia University Graduate School of Architecture, Planning and Preservation I Jordan
Instructor: Kate Orff, Nora Akawi, Petra Kempf , Mohamad Ziad Jamaleddine, Laura Kurgan
Name: Revitalizing the Dead Sea
Team: Wanpeng Zu, Yanyan Xu, Daiyue Lyu, Zhaoyu Zhu

https://www.arch.columbia.edu/books/reader/194-water-urbanism-amman#reader-anchor-7

Due to the current water distribution in the region and a population that is predominantly concentrated in Amman in need of water, a conflict between natural water flows and extracting water towards the city has left the Jordan Valley in a precarious situation, both from a socio-economic and ecological stand-point. As tourism is decreasing; agricultural practices are in a stagnant state, and the overall habitat for migrating birds in the valley are in jeopardy, this project aims to redirect current agricultural and tourism practices to mend the valley's fragile ecosystem.




Currently, Jordan serves as a hub for medical tourism in the region. Every year more than 250,000 medical tourists from 84 countries come to Amman undergoing medical procedures such as cosmetic surgery, neurological surgery, orthopedics, organ transplants, etc. Rather staying in Amman, our project provides facilities at Dead Sea for these patients to recover in Jordan. Located at the northern shoreline of the Dead Sea, our intervention uses the existing hospitality facilities to house these patients. By opening these exclusive facilities to a wider public, a different form of tourism has been build while contributing to the valleys ecological well being.





SUSTAINABLE CONSTRUCTION PATTERN:
CONSTRUCTION OF NEW LANDSCAPE & INVOLVEMENT OF DIFFERENT PLAYERS

PHASE1 RAIN WATER HARVESTING AND GREY WATER COLLECTION
The wadi that harvests most Rain Water will be chosen as the main axis after calculation. Grey Water from both the village and the hotels will be collected and conveyed to the main wadi as well as the nearby natural reserve.

PHASE2 WATER DECENTRALIZATION
Retaining walls will be proposed to decentralize water from the main wadi to its both sides and used to keep water there for later agriculture irrigation.

PHASE3 TERRACING
Retaining walls will be arranged according to the Contour Line and soil will be removed from its front to its back to create terraces. Local Villagers will play as the Major Workers in the construction.

PHASE4 LOCAL SETTLEMENTS, MEDICINAL CULTIVATION & EARLY STAGE MANUFACTURING
The first group of housing will be constructed for local villagers to farm here. Medicinal plants naturally from the Dead Sea area will be will be cultivated in different specific lots according to their different habits. Fab and factory will be built for the manufacturing of medical plants and at the early stage, it will be a rather centralized process.

STEP5 HEALING HOTEL, TOURISM INFRASTRUCTURE & LATE STAGE MANUFACTURING
Finally, tourism will be invited into the picture. More Healing hotels will be built by the retaining walls and medical pools will be created near the Dead Sea. Different programs and infrastructures will be inserted to attract different types of tourists, especially medical tourists from Amman. Production process will be rather decentralized into each unit. Only medical plants that require complicated production process will be manufactured in the factory and then distributed to each healing hotel unit.




HEALING HOTELS & MEDICAL FARMS -FOR THE TOURISTS

The healing hotel unit locates on the upper part of the area, consists of Healing Hotels and Medical Farms. Run-off water from the upper terrace will be stopped by the retaining wall and gathered by the tank underground to irrigate the medical farms and preserve area on the lower terrace. Healing hotels will be built by the retaining walls and narrow courtyards will be inserted between them for ventilation and cooling purposes.

In Winter which is the Typical Season for Tourism and Cultivation in Dead Sea area due to the mild weather, medical plants will be seeded and start to grow. Courtyards between the retaining walls and the buildings become public spaces supporting different activities. In Summer when traditional farming plants cannot be grown, Medical Plants like saltbush, Balsam and Tamarisk that suit the hot environment will blossom and harvest, creating a new landscape to attract visitors and extend the Cultivation Period, therefore create more economic values. The medical farmlands will also provide food to birds breeding here and provide them habitats.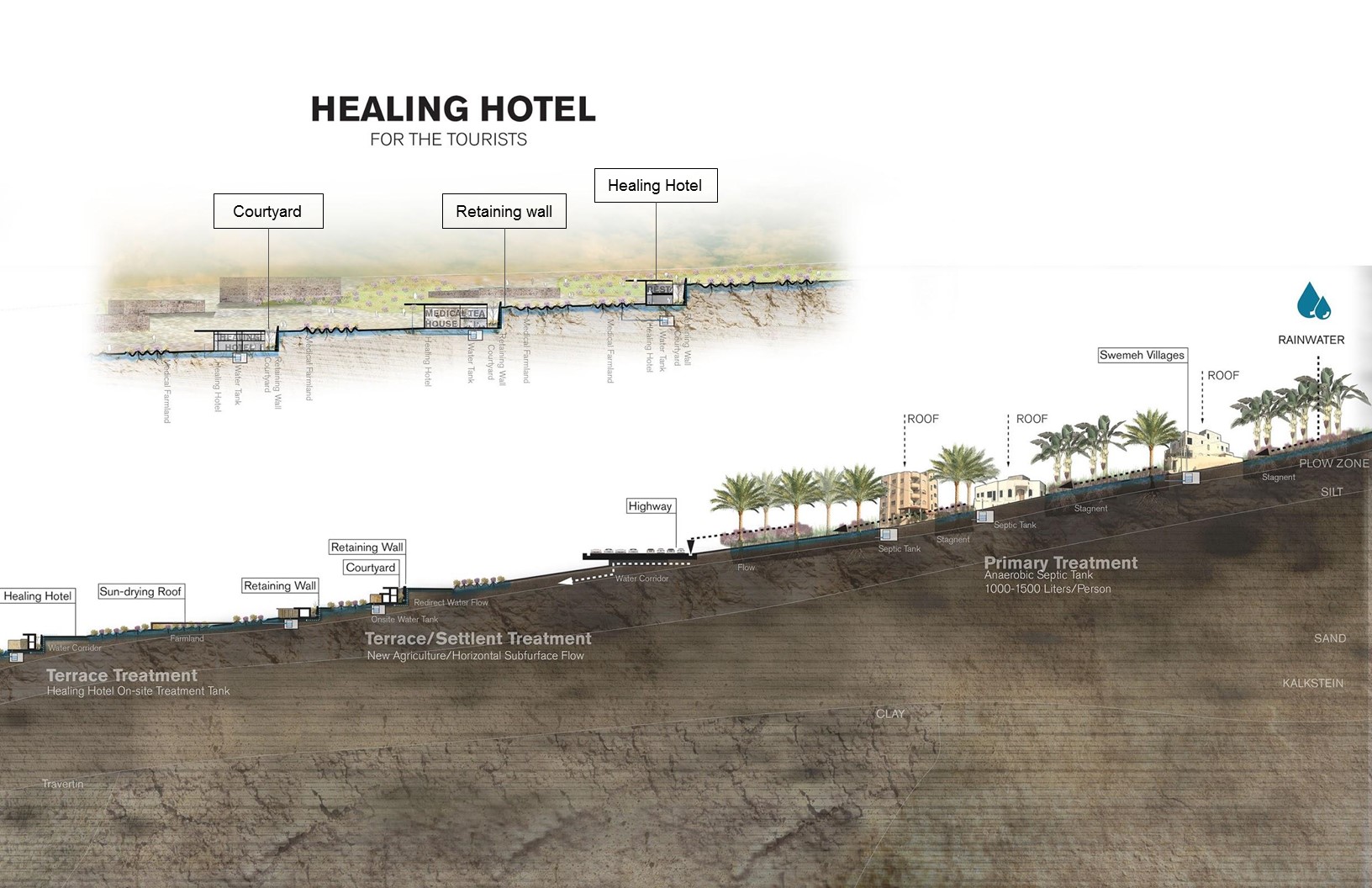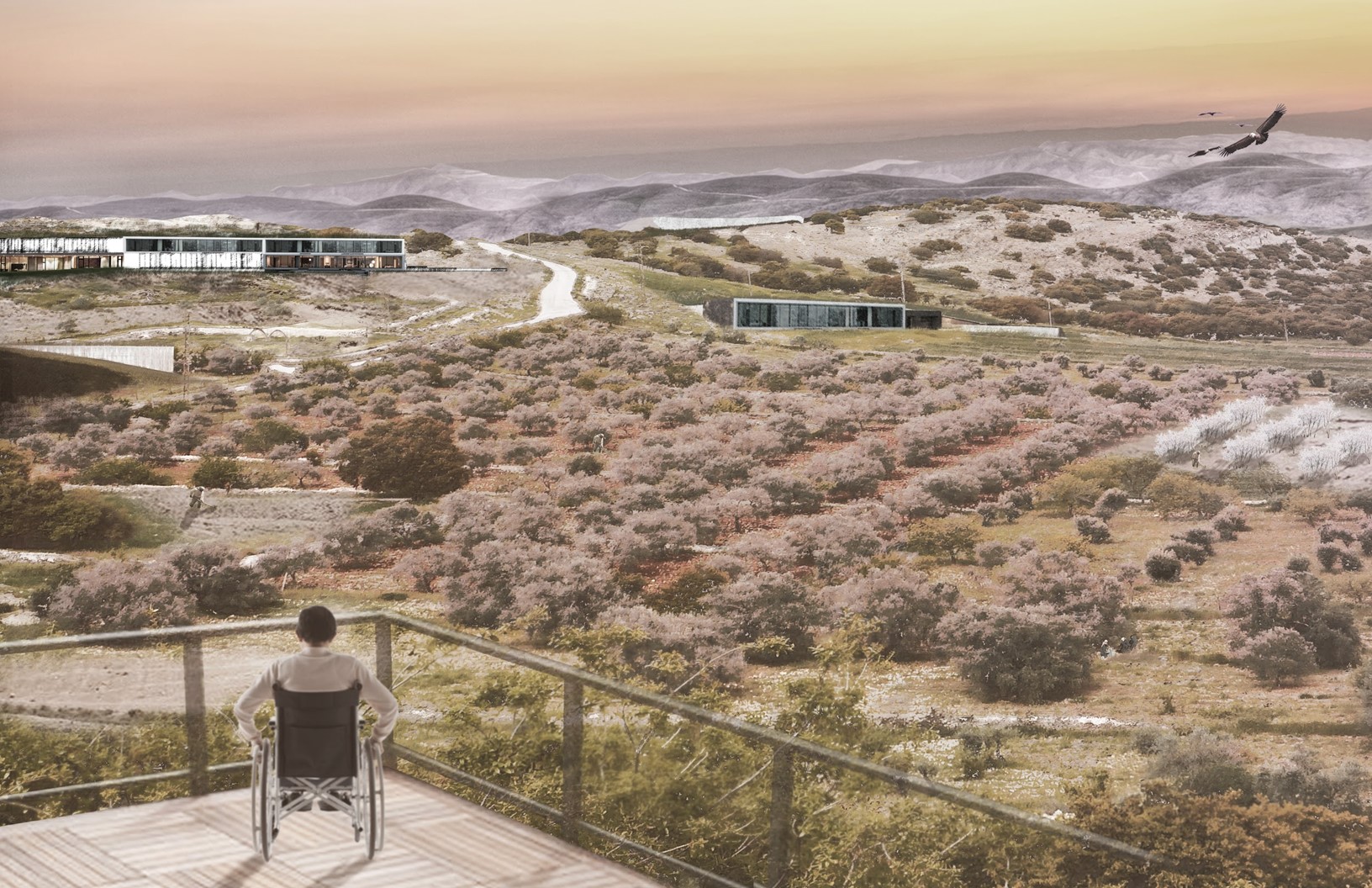 MEDICAL PLANT RESERVE -FOR THE BIRDS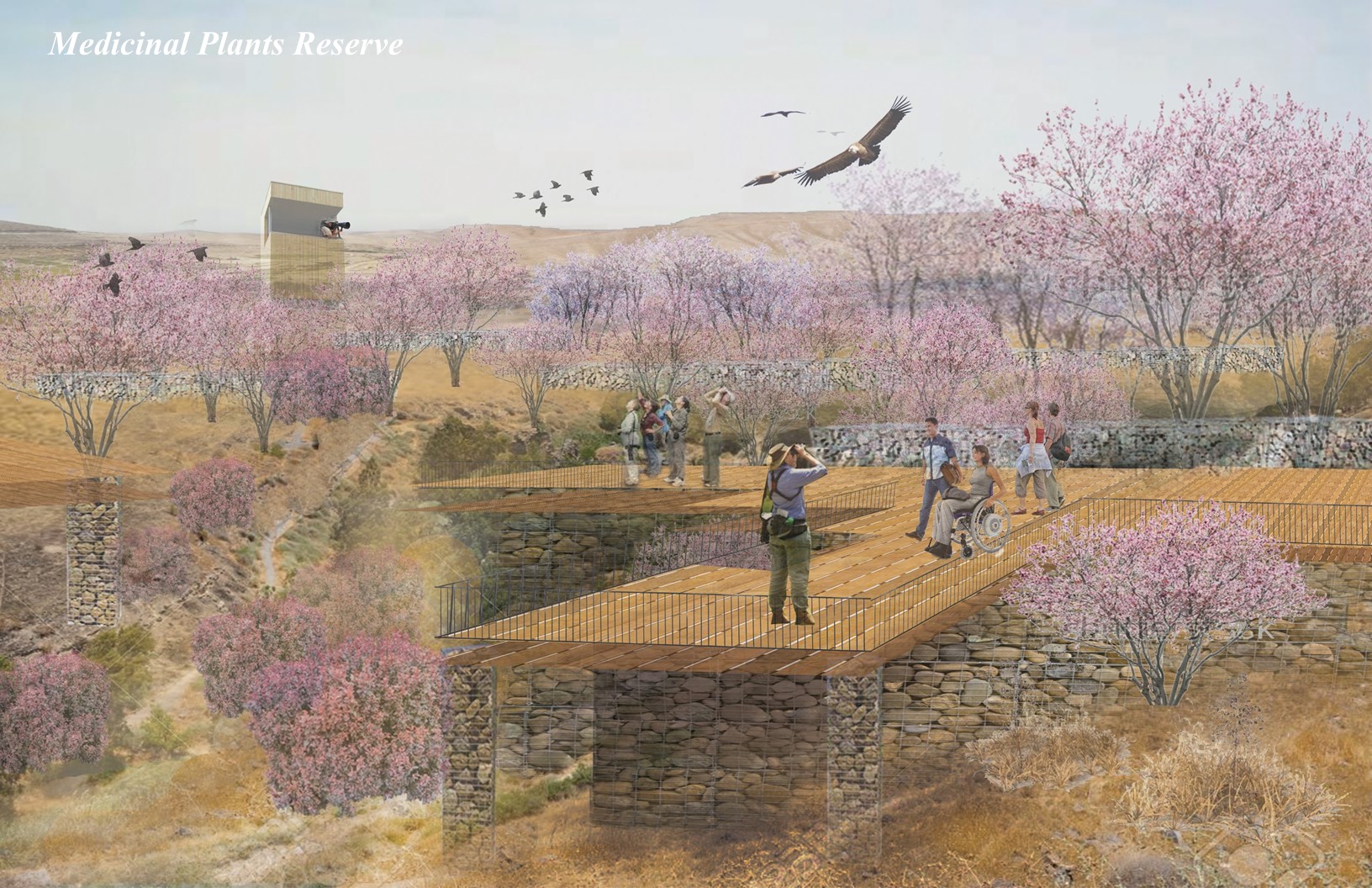 MEDICAL POOLS-FOR ALL PUBLIC

Taking the advantage of the Dead Sea's special medical resources, mud pools, salt pools and water pools that have different healing effects will be arranged in different locations according to different distances from the Dead Sea. All of them will be accessible to tourists as well as local people. Retaining walls will be used to redirect water and prevent water to enter the mud pools and sand pools. All the water from the pools will eventually return to the Dead Sea.

Since the coastline changes in different seasons, landscape in this unit will also change accordingly. In winter, with more rainfall, there are more water and mineral pools. In summer, the Salt Pool will salt out more in higher temperature and most Wadis will dry out. Meanwhile the Medical Plants grow nearby will blossom. People will be able to enjoy the pools among medical flowers.








Three phases have been purposed through the project.

1. The first phase revolves around a careful process of reconfiguring the current land-formation. In order to introduce new forms of agriculture to cultivate these land formations, we envision a new irrigation and collection network to both harvest water and to collect grey water. This goes in conjunction with the introduction of medicinal plants. As these plants have being planted, harvesting facilities and labs are being implemented. In the construction of retaining walls, terraces and medical pools, new jobs will be introduced to locals. Local farmer's knowledge of medicinal plants will help them play an important role in medical cultivation, making them the major work force.

2. As several cycles of crop harvesting have occurred and medicinal plants have been processed, patients may arrive at the newly build facilities. While the regional hospitals establishes their new research facilities on site, medical knowledge is being offered, giving the local community access to high skilled job opportunities

3. In the third phase, the medicinal oriented agriculture has become part of the ecological habitat, giving both the local community the possibilities for new livelihoods, This also applies to the yearly occurring migration of birds passing through the region. As these birds rest, birdwatchers from abroad and the region may become part of the scenery.

For the long term, new agricultural and medical tourism pattern like this will collaborate to be a new agro -eco tourism system along the Jordan River Valley and Dead Sea which will not only bring working opportunities and economic benefits to local people but also help recover the broken ecosystem. Newbalance will be created between the need of human and nature.