EVOLO-Skyscrapper


Competition
Name: A "Non-Existent" Tower
Team: Wanpeng Zu, Zichang Yan, Yuting Pan, Mengke Wu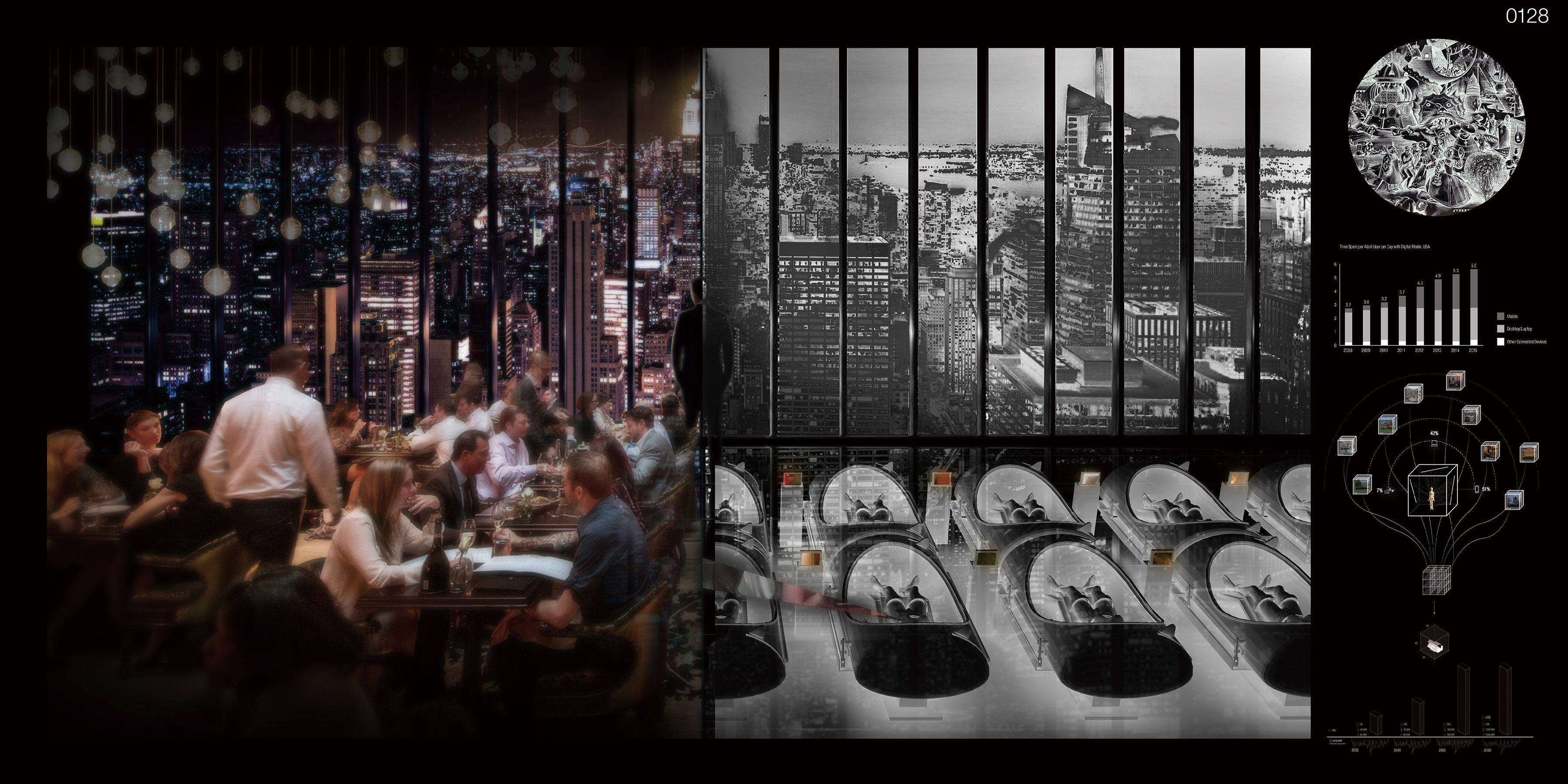 "It does not do to dwell on dreams, and forget to live."
Skyscrapers, as an architectural typology in response to the upsurge density in urban spaces, has been developed to challenge the possibilities of vertical living, on the aspect of not only heights, but also spatial and performance possibilities. It is also considered to be a symbolic icon for the prosperity of city. Manhattan is always the best representative of this.
Manhattan is not only an island occupied with skyscrapers, but also an island full of dreams and desires with invisible success and failure; laugh and cry. It is typical in such a big metropolitan, people's desire is expanding and people's satisfaction is decreasing, with overarching ambitions.
Meanwhile, the growth of digital technology offers tremendous convenience for people. Moreover, a virtual world allows people to escape from the reality, people could easily meet their physiological needs, remain safe, get love, earn esteem, and obtain self-actualization without pressure and laborious work.
Plenty of people are so addicted to it, deeply involving themselves in the virtual dreams which are not easy to fulfill in real life.
What if almost all the demands could be met through technology?
What if people's life totally resides in the technological world?
The project is conceived based on a radical vision of conceptualize skyscraper as a Neverland on Manhattan.
The skyscraper is a symbol of people's desire. The skyscraper envisioned by us extrudes right in the middle of Manhattan, with mirror panels on the exterior. The reflection of the mirror makes the tower almost "invisible" with escaping from surroundings.
In assistance with technology, the physical space that each person actually live in the tower will be minimized into a 3 feet by 10 feet space. People are totally separated from each other in the space, tied to a system to maintain their living and a visual reality system could involve people in living in another New York City. Through visual reality technology to be correlated with people's innumerable desires including pride, covetousness, lust, anger, gluttony, envy, and sloth.
What if the reality is not so important anymore?
What is the future of the people?
When dream replaces reality.
When virtual world substitute for real life.
The entire project provides satire possibilities for the future world of Manhattan and human beings' life through contrasting the imaginary world with real world to show the outcome of people of living in virtual world.